Wormley Community Centre is a bright, spacious multi-roomed venue in the heart of Wormley. Our event space is ideal for parties, wedding receptions, conferences, leisure classes and live performances. With a licensed bar, supporting foyer, an overhead projector, enclosed courtyard and free parking we are able to welcome all kinds of celebrations.  
We also have the newly created studio; a bright and airy space perfect for smaller classes such as yoga or art as well as meetings using our conferencing equipment with wifi connectivity. 
So for any event from a large cheesy disco to a small occasional meeting  come and have a look and we will help you organise your event.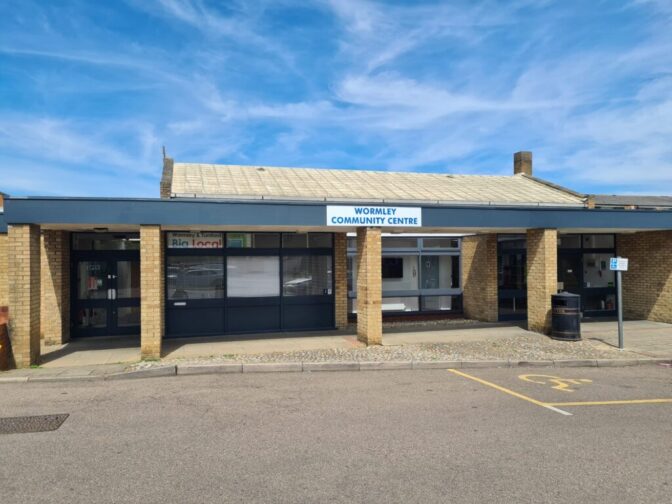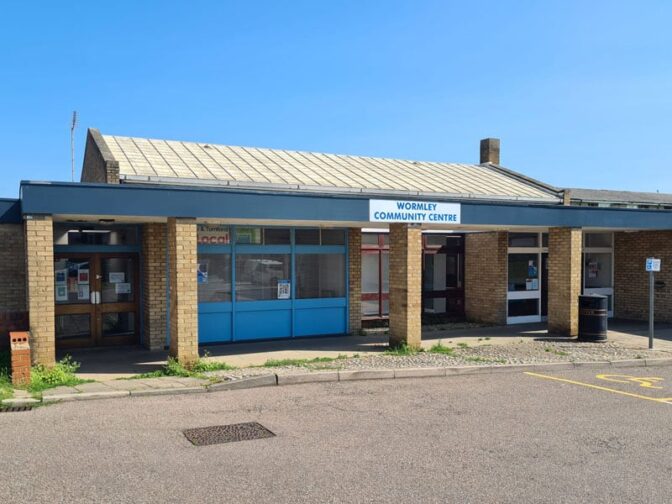 Wormley Community Centre is a spacious, newly renovated venue in the heart of Wormley, Broxbourne located five miles from the M25 and just off the A10.
Our multi-purpose event space is ideal for parties, wedding receptions, faith celebrations, leisure classes, dances, and wakes and memorial services. The large hall has an event stage, fully equipped kitchen, overhead projector , a servery area, as well as a licensed bar.  Supporting the hall is a foyer – perfect for break away moments – and an enclosed  courtyard for wedding pictures, fresh air, a little bit of peace and quiet or for littles ones to escape too to run off some energy.
Our new studio (36m2) boasts a 55inch TV screen suitable for training courses, hard floors for exercise and two full windows which flood the room with light from morning until evening.  
Our Studio is the newest addition to our rooms for hire! Newly refurbished with full tech facilities and minimalist décor, this room is a perfect blank canvas for anything from yoga classes and children's activities to smaller conferences and movie screenings.
Perhaps you work from home and occasionally need the use of a meeting space or you are starting a new business and looking for a smaller space to start out, The Studio at Wormley Community Centre is a perfect low cost option.
An added advantage of the Studio is that it links to The Hall so not only can it be used as a self-contained space, it is also perfect as an additional room with the hall hire for serving food from or as a dressing room for performances.
Separate kitchen facilities are also available to use with The Studio hire.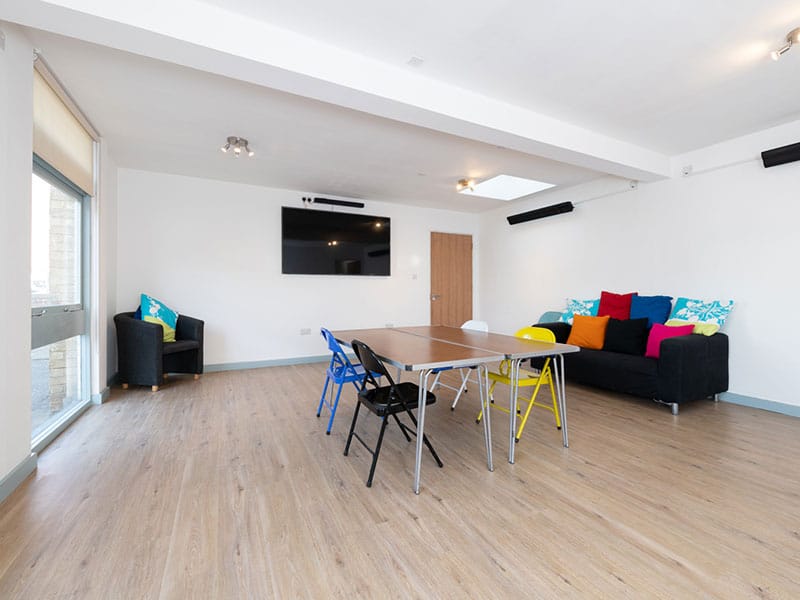 Opening Times
| | |
| --- | --- |
| Mon-Sat | 7am – 12 midnight* |
| Sun | 7am – 11pm* |
*The premises must be vacated by times stated
Music Finish Times
| | |
| --- | --- |
| Mon-Thurs | 11pm |
| Fri & Sat | 11.30pm |
| Sun | 10.30pm |
Studio Capacities
| | |
| --- | --- |
| Theatre style | 36 |
| Conference | 20 |
| Exercise | 10 |
We are able to set up the hall for you, i.e. table plan etc. Please let us know your requirements for your function 2 weeks in advance.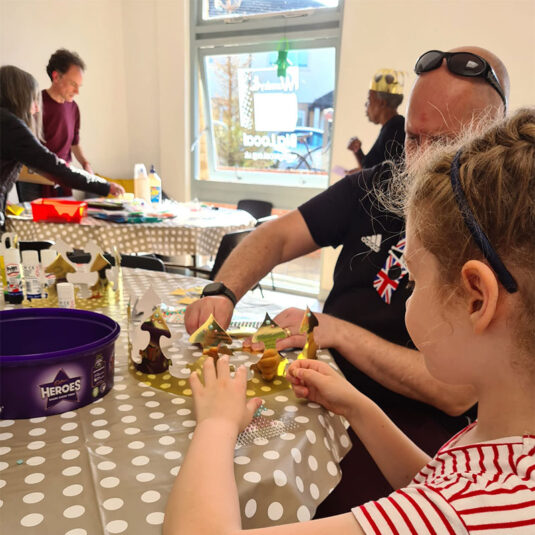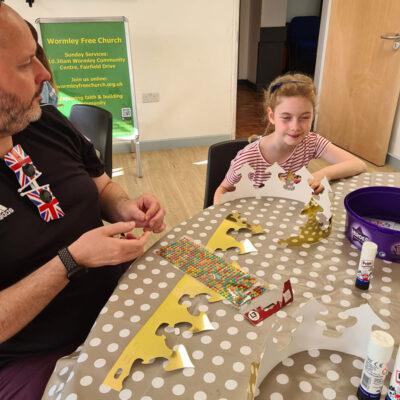 Room Hire
Our community centre is available for individuals, groups, clubs and organisations to hire 7 days a week.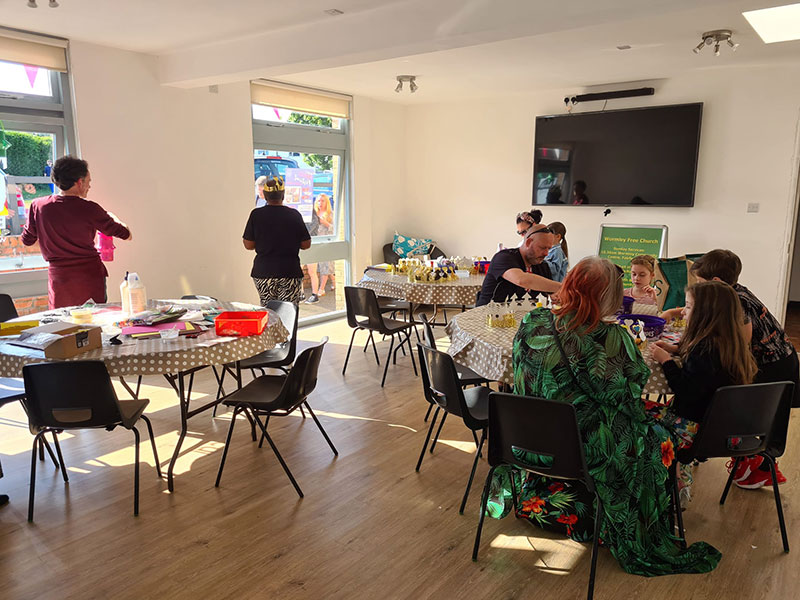 One-off hire rates (2 hour minimum)
Commercial
Community group / Charity (non-profit)
Small business / Statutory agency
Private
Peak (per hour)
Mon – Fri after 6pm
Weekends after 12pm
£25.00
£15.00
£18.00
£20.00
Off peak (per hour)
Mon – Fri before 6pm
Weekends before 12pm
£20.00
£11.00
£12.00
£15.00
ADDITIONAL COSTS
Booking deposit (non-refundable)
£10
Damage / Additional cleaning deposit (Refundable)
Up to a maximum of £100 (Cost confirmed upon enquiry)
Late payment charge
5% of balance
One-off hire rates (2 hour minimum)
Commercial
Peak (per hour*) 
£25.00
Off peak (per hour*)
£20.00
Community group / Charity (non-profit)
Peak (per hour*) 
£30.00
Off peak (per hour*)
£22.00
Local business / Statutory agency
Peak (per hour*) 
£35.00
Off peak (per hour*)
£25.00
Individual
Peak (per hour*) 
£40.00
Off peak (per hour*)
£30.00
Peak (per hour) Mon – Fri after 6pm, Weekends after 12pm
Off peak (per hour) Mon – Fri before 6pm, Weekends before 12pm
Additional Costs
Booking deposit (non-refundable)
£25 or 20% of total, whichever greater
Damage / Additional cleaning deposit (Refundable)
Up to a maximum of £500 (Cost confirmed upon enquiry)
Minimum bar spend
£200
Late payment charge
5% of balance